Click here to see the great Banners made by others with this derivable!

DO NOT BUY! For Developers ONLY! EZ Banner! Designed for even New Creators. Custom-size mesh for MyBannerMaker use. Need FREE and EASY banner texture-making software? Use MyBannerMaker.com FREE options or other free banner software! See instructions below. No graphic imaging software needed!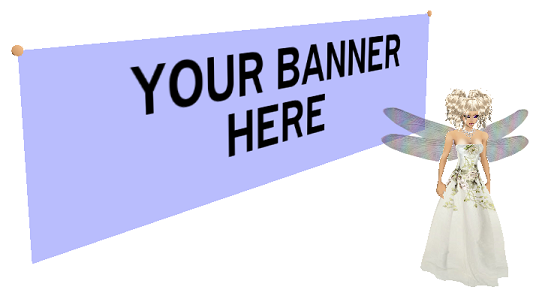 Information for Developers:
You MAY set products derived from this item to derivable.
You MAY use my textures in your proper derivation of this product on IMVU.
Ignore material M00:
Banner (M01): 728x200 texture. Template: click here.
Optional Banner Handles (M02): 64x64 texture. To remove the banner handles, add a 64x64 BLACK texture in the Opacity map (replace the current white opacity texture).
General instructions to use this derivable with MyBannerMaker.com
(more details on their website)
Go to MyBannerMaker.com.
Select the [u]FREE 728x200[/u] banner size (called "Pop-Up Under").
Upload any image background. (MyBannerMake lets you upload different size images and pick the part of the image you want to use in your banner.)
Type your custom banner message. (MyBannerMaker lets you pick different font styles, sizes, and colors!)
Save the banner to your PC.
Load the custom banner into IMVU Create Mode as material M01, save and submit!
Enhanced Derivable Frames!
All* new frame derivables use wall nodes; have centered frame sides, seamless edge matching, useable frame textures, easier maps, and improved meshes; and derivations can be set to derivable! Transparent backs can be changed to second images on most. (* Except for floating frames and frames with product numbers less than 4918785.) For all of my derivables, click here. Derivable Frame Shapes






Frame Features



Frame Textures and Colors






For all of my derivables, click here.

derivable recursive repeating crazy escher OtherShapes optical illusion illusions