DERIVABLE! Developers see below for more information. Table with antique lace tablecloth in a brilliant white! (Click here for a more subdued antique white shade.) Fits AnakaTarren Cakes (square or round). Tablecloth based on an actual antique lace pattern.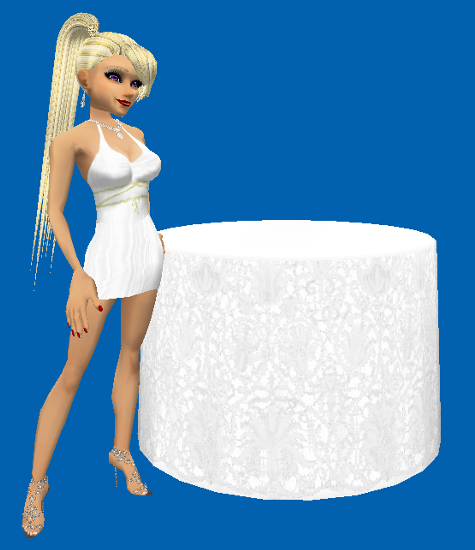 Below: Shown with one of AnakaTarren's Cakes click here. For other wedding and reception items by AnakaTarren, including beverage bottles, beverage flutes, elegant ice buckets, and other items, click here.

Add a Birthday Cake with Candles! Flames animated. Click on the icons below. Or see my catalog for more cake styles, beverages, and party supplies.



Information for Developers:
You MAY set your derivations to derivable!
This mesh and the textures in this derivable product are copyrighted and may be used in proper derivations of this item in IMVU only.
Textures M00, M02, M03, M05 are squares except for the lace side panels (M01) which are 369x512. The side panels will automatically be resized in Create Mode when you "Apply Changes." Ignore M04.


wedding cake reception celebration birthday anniversary white decorated tables display table marriage marriages weddings celebrations receptions party parties antique Boda celebracion fiesta amour amor