I Support itzZane Team Productions 50K




We are a team of performing artist on IMVU. We Perform for the love of music and the joy it brings to others.

Our mission is simple:
We are a nonprofit innovator and steward of iconic venues, providing arts, entertainment, cultural, and educational experiences to the greater community of IMVU.

We believe that the arts can change lives, and our donors do too.



Be a part of this with your talent and or support. Please give to the performing artist.
Thank you.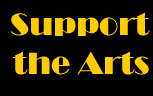 Products by itzZane



100% Satisfaction Guarantee on all my products.
Thank you for shopping.

See all my products here: Products by itzZane