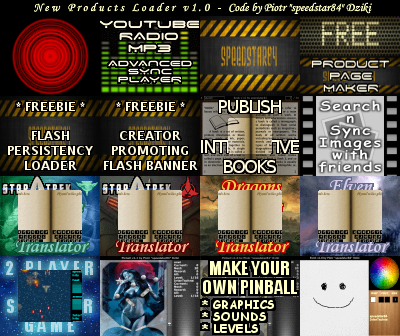 This product was made for creators to advertise their latest products.
Nothing to configure, its very simple, just derive, put your own banner texture, submit to shop and its done.

FEATURES:
* creator auto detection (nothing to configure)
* automaticly load latest 16 products from creator catalog and present as icons with links
* GIF animation support
* drag and drop (freely move around the screen)

ALTERNATIVE VERSIONS:
Kiosk by oOKabbyOo
Kiosk (reflective) by oOKabbyOo

WHY I CANT SEE PRODUCTS SUBMITTED IN LAST FEW DAYS?
Its well known IMVU case. Products from last few days are not visible to new or not logged users. Log out from IMVU website and visit your shop catalog, to check if you can see this products. Loader is not a user and has no account, so will load your latest products which were submitted up to 10 days ago or later.

WHY I CANT SEE MY PRODUCTS?
Be sure that your derivation is published, passed peer review and is visible for other users.

WARNING!
AFTER CHANGES MADE BY IMVU SOMEWHERE IN JANUARY 2014, GIF ANIMATED ICONS MAY NOT BE ANIMATED ANYMORE.
IN THIS CASE, ONLY FIRST FRAME WILL BE DISPLAYED.
IF IMVU WILL MODIFY THEIR CONFIGURATIONS AGAIN, ANIMATIONS MAY START TO WORK AUTOMATICALLY.

IF YOU HAVE ANY PROBLEMS OR QUESTIONS, JUST SEND ME A MESSAGE.
IN MOST CASES, REPLY IS WITHIN 24 HOURS.