---
presenting the highly evolved next generation virtual pets from the Vertexual Foundry's Intensive Development Unit
TRANSFORMAR-ULTRA BLACK
specifically engineered to provide maximal entertainment at the beck and call of your commands
---
Want a pet that is not boring?
Want pets that are cool?
Seeking for pets that does more than stand where they are?

Look no further!!!
The Vertexual Foundry presents to you
the
Transformar
in
Black

This Ultra version contains
2 moves
not available in its Standard edition!
---
Actions:
robo - Transforms into a Robot
car - Transforms into a Car
robopunch - Punches in front of the avatar
robokick - Sweeping kick in front of the avatar

---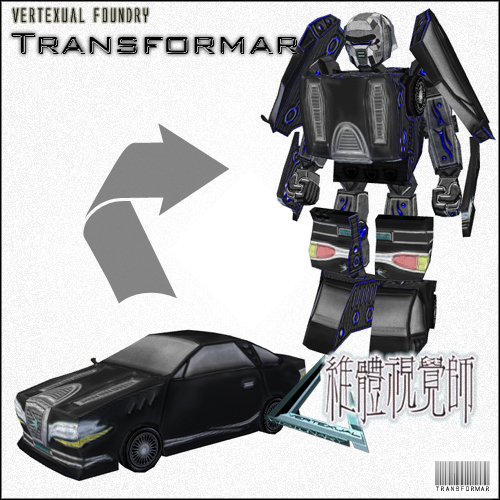 ---
available in the following colour
ULTRA





STANDARD





---
click the below banner for more of my products:


---
This product contains audio that is not part of IMVU's Music Mix Service and thus may be limited to a maximum of 20 secs of audio only.
---