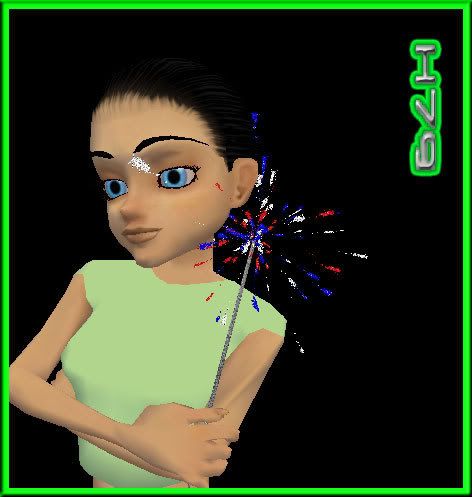 A fun animated sparkler. The sparks are red, white, and blue for the Fourth of July. It is held in the left hand of the avatar. NOTE***** This item does not come with a pose and the default animations put the sparks by your face. Please use a suitable pose as I am not responsible for facial scarring...lol. Seriously though, I did not add a pose to this so that it could easily be used with whatever pose you want. Click
**HERE**
AND
**HERE**
for other versions.
An easy to derive light mesh with TONS of possibilities.
M00-03 - Each one is a different set of sparks. Make them different colors or all the same. Has an opacity map that you can change if you like. If you reuse my opacity map, it must be with a texture that is 32x512 for it to work. Feel free to change it though.
M04 - The "stick" part.

If you have any questions, comments, or requests about this mesh or any others that I have made, or if you have a request for a mesh that you would like made, please feel free to contact me on my home page or in the forums or on my website.

If you derive from this mesh, please follow these guidelines. Do not set your item to derivable without my express permission. If you have changed the opacity maps and made it into a unique item, ask me and I'll probably say it fine to make it derivable, but ASK FIRST. Do not use any of my textures, make your own. Exception to this are shadows and water textures and opacity maps. These are all pretty basic and are the only textures that I am giving permission to use. Make sure that your item does not violate the IMVU Virtual Goods Policy or Terms of Service.